I love my new yarn!
Here's a pic of it (courtesy of toadal from ebay):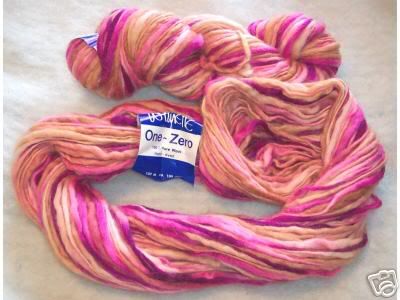 I wound it into a ball before I could take a pic. I'm making a skinny scarf out of it but I'm not sure if its too skinny. I cast on 16 stitches, and then I'm k2 p2 with size 10 needles (the biggest I have right now). Not too original but hey, it's my second knitted thing. My next scarf will be cables. I'm debating whether to frog it and make it a little thicker. I'm just worried about running out of yarn. Then again, she does have more in this color, but since it's hand dyed it may vary. Any advice??
I love the colors!! It has dark pink, light pink, orangey color, and almost a camel color. It will look great with my new black/off white reversible Old Navy coat, or even my camel colored pea coat. I'll post a pic of my progress later.