Home Stretch
I think Wednesday I will find out when my scheduled c-section will be. I have to have one because of my complete placenta previa. About a month or so ago I had a little scare. I started bleeding in the middle of the night, so we went to the hospital. I stopped bleeding by the time we got there, but they monitored me in Labor & Delivery for a few hours. I was having contractions but wasn't feeling them. So the docs said if I bleed again I could either stay in the hospital or be put on bed rest. In the meantime, I am not allowed to travel, which means we had to cancel my NY shower. :( But a friend of mine is having one here for me next month, and we'll just have the NY one after the baby is born. But I am just ordered to take it easy, and not to lift more than 20 lbs or do strenuous exercise.
We worked on the nursery this weekend. We painted and put together the crib and a dresser. There was a damaged piece on the changing table, so we are waiting for a replacement piece. The pic makes our walls look a bit more pea green than it really is. No flash will do that. It's more of a sage color. It looks really nice with the furniture (which is cherry) and the bedding (which my mom still has, but I have some swatches). Coming along nicely.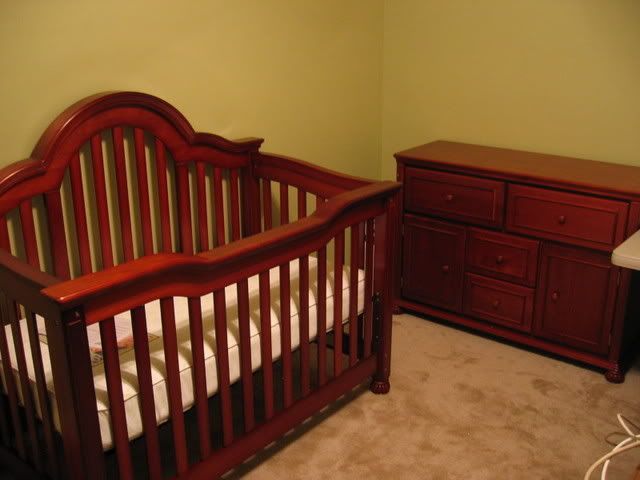 I am still working on my Icarus scarf. I need to finish that soon. I was thinking I could use it as a breastfeeding cover up. We'll see. I also did a baby sweater which I need to take a pic of. I'll try to do that tomorrow.
I really really want to do the Tilted Duster from IK. I think I'm going to splurge, while I can, and get the Peruvia yarn. Not sure what color to do though. I'm thinking Travertino, which looks orange in some pics. I can't decide. The Purpura is sold out on many sites. Maybe a green like Sea Turtle, or Dragon. Ugh, I can't decide. HELP!!! And a certain ebayer is very unhelpful in letting me know if the Travertino is close to rust or not. She says look at the Berroco website. Gee, I should have thought of that!!! Of course I looked there, but the pic is too small and it's hard to tell what color it is. I may have to venture to my LYS to check it out in person.