Another great ebay find!
I bought myself a new crochet hook holder for my Crystalites hooks. I have that ugly blueish Boye hook holder right now thats holding my Bates metal ones. But I got one from.... maybe I shouldn't share so you don't outbid me hehe... I plan on getting a knitting needle one too. (ok fine, it's from seller boogybags) They are so cute! Here's a pic. I should probably get another one so I can get rid of my Boye one.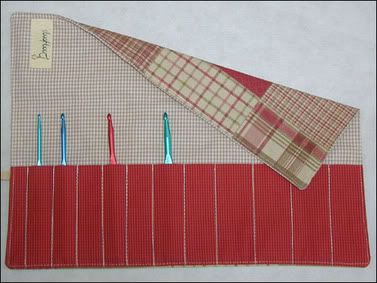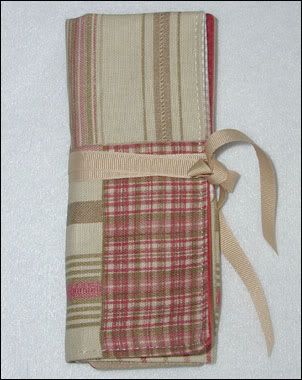 I'm going to run to Michaels today since Homespun is on sale. I want to make the Lion Brand town & country poncho. Don't know why since I don't like the ponchos I've made so far. I'll keep trying till I make one I like. I had made one out of Divine yarn (asymetrical type poncho, two rectangles sewn together), but I don't really like the way it hangs. Too bulky. Guess I could have used a larger hook, but I didn't feel like frogging it. I'll keep it as an around the house poncho. The Hiawatha poncho isn't coming out as nice as StitchDivas picture. It's too bumpy in the back, it doesn't hang nicely either. Too stiff, maybe acrylic would have been better? Maybe blocking it will help with the bumpyness. We'll see when it's finished. It's almost done. I also want to get some WoolEase to knit myself a scarf. I hope to get my needles from Joanns this week.
I got a Barnes & Noble gift certificate for my birthday. I want to get a nice crochet or knitting book. Something modern.
I've been procrastinating with the pics. Sorry. I'll post some pics tonight of the bag I got for $4 at ACMoore. And maybe of my two ponchos. I'll also take pics of the stuff I'm working on for my private show.
Which reminds me I have to go to Bed Bath and Beyond tonight to buy some cake plates, olive oil bottles, trifle bowls, and anything else I may be able to paint. I'm going to try and concentrate on glass stuff for my show since it's a lot easier to prep and paint. I'll post pics as I finish stuff. So far I painted a lazy susan with poinsettas, and a vase with holly, pine needles, and stripes. I'm so stressed about getting stuff done in time. The show will probably be early November. I also have to think of games to make it fun. Make it like a PartyLite party, or Home Interiors. I think I'll make giveaways and hostess gifts. I'll paint tons of votive holders. I'll probably sell candles too. I need to get laid off so I can do all this!